Welcome Artists & Vendors!

Thank you for your interest in our open air
Friends of Wenwood Marketplace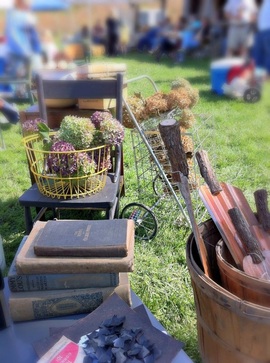 The Friends of Wenwood Marketplace embraces the country lifestyle, with works of art reflecting the beauty of our surroundings, historic and folk crafts, re-purposed creations and purveyors of re-purposeable goods, and traditional foods vendors . It is held at the Redbud Festival, last Saturday in April, and the Harvest Home Festival, last Saturday in September.
Entries are limited to 25 artists
, and works are accepted based on these criteria: fine arts, traditional crafts, and upcycled creations are original works; artworks, goods and collections must be created by Missouri residents; and by number of entries in a given medium, so that as many mediums as possible are represented and no one medium is over-represented. Works will be reviewed in the order they are received and accepted or rejected within a week of entry. There is a $30 deposit required; $25 returnable upon arrival, $5 used for lawn care.
Deposit will be refunded (less $5 processing fee) when booth space is canceled at least 14 days prior to arrival date. After 14 days your deposit will not be refunded.
We will be advertising widely, and there are visitors from the Jefferson City, St. Louis, Kansas City and Springfield areas, as well as from out of state, who regularly attend this event. The artists have been very successful in previous art events, and we anticipate even greater attendance this year!
Come join us for a wonderful day celebrating tradition and wine! To enter, please
click here
to visit the registration page on our website. We look forward to hearing from you soon.
---
---