Fifteen years ago, Tom & Laura came to her Missouri farm to tilt at windmills. Many have joined us. We invite you to join us, too. It all starts with a great glass of wine.
---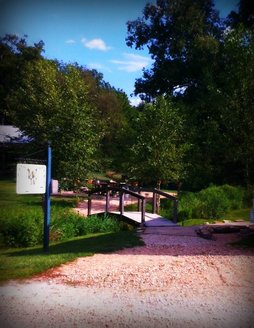 The Quixotic Tale of a Missouri Winery
Tom Kalb started working in the wine business at age 14, at a small winery in his home town of Lake Geneva, Wisconsin. He scrubbed tanks and stocked shelves. Laura Neese had a family farm in the middle of Missouri Wine Country. A beautiful valley with a home that is welcoming and historic. It was a natural fit to create a boutique Missouri winery that offered a haven of upscale sophistication with down home comfort. So, old farm buildings were given new life as a stylish tasting room and gallery,
a
quaint outside pavilion with awesome acoustics for live music, and a top quality wine production facility. Friends helped and eventually became employees. Those who also love to tilt at windmills, even if just for an afternoon, found us and became a community of wonderful fans, friends, wine drinkers, music lovers. Please come join our eclectic community soon. Once you visit, you're part of our family.
Oh, and one other thing - we make
fantastic wine
.
---
Call 573-437-3443 for friendly information on the family farm winery near Jefferson City, St. James, Hermann and Washington in the Missouri Ozark Highlands.


Current Hours:
Friday, Saturday & Sunday
11 am - 5 pm


What's Happening
at Wenwood

A Toast to the
TOTAL ECLIPSESunday & Monday
August 20 & 21We're right in the path of this amazing event, and we're celebrating!
Click Here for Details!

~~~~~~~~~~~~~~~~~~~~~~~~~~~~~~~~~~~

Find Wenwood Wines at

Wine Tasting Events

around the state:

CLICK HERE & SCROLL DOWN